10 Writing Techniques You Can Use to Attract a Massive Audience
Building a successful writing career involves a ton of variables. One of them is pure luck. Just the way life goes. But there are writing techniques that can increase your odds of building an audience and making a living with your writing.
No guarantees, though, for real. I never make promises. I don't know how naturally talented you are (it matters). I don't know what topic you write about (some are inherently more popular than others). And I don't know how hard you're willing to work or how long you're willing to persist at your craft.
I do know this. If you're talented and work hard for a long-time, your odds of some success are high. You might never have a million subscribers or a New York Times bestselling book. But you don't need those things to have a writing career you love.
Go There
Sometimes I cross the line. I'll write something that isn't just politically incorrect, but totally insensitive. I've looked back on entire pieces I've written and think to myself "maybe I should have let up a bit." I don't normally pay attention to comments, but when I see a bunch of comments that point out the same flaw in my piece, I take note of it.
But I always err on the side of pushing the envelope instead of pulling punches. Some of the best comedians are the ones who 'go there' – they say the things we feel inside but are afraid to say out loud. I try to adopt the same approach when I write.
Especially in today's climate, it's more important to say what's really on your mind, even if you face consequences for it. Politically incorrect truths are the bedrock of freedom of expression. If you're not for freedom of expression, even the opinions you don't like, you're not a real writer.
Activating the senses
One writing technique that can breathe new life into your work is focusing on the oft-neglected senses. Readers are used to knowing how things look and sound ("he had dark, beady eyes like a hawk; his voice was deep and peppy like a tuba in an oompah band") but you can often add greater dimension to your writing by evoking smells, tastes, and tactile sensations.
Smell
We rarely mention how something smells unless it's exceptionally pleasant or foul — but our noses can remember things our eyes have long forgotten. In writing, a carefully invoked smell can summon a reader's own sense-memory: the smell of freshly buttered popcorn can take you to the lobby of a movie theater; a whiff of bodily fluids masked by disinfectant can transport you to a hospital.
Example: Perfume by Patrick Suskind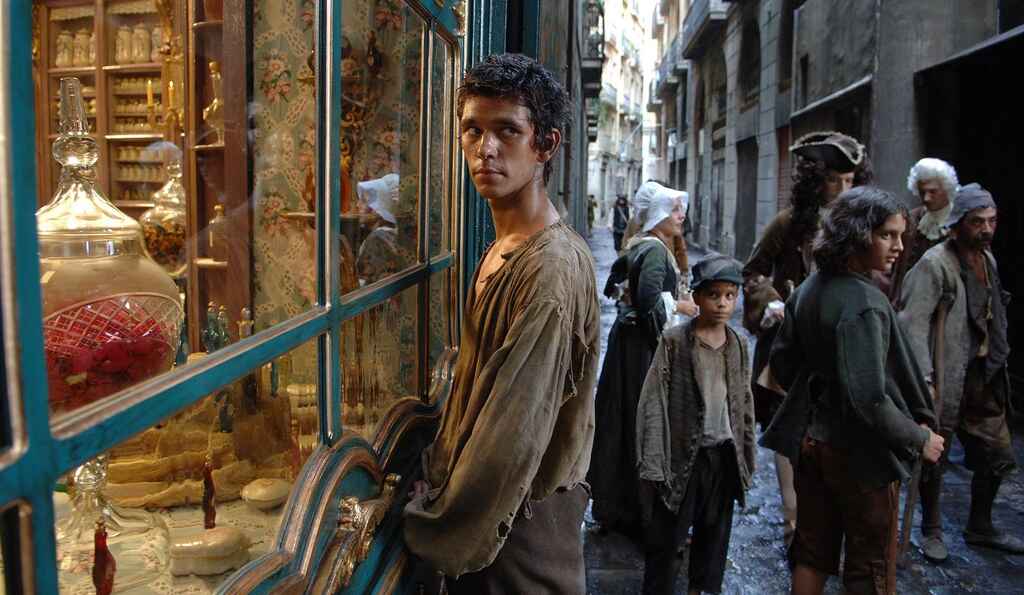 Ben Whishaw in Perfume [Image: Paramount]
In the period of which we speak, there reigned in the cities a stench barely conceivable to us modern men and women. The streets stank of manure, the courtyards of urine, the stairwells stank of moldering wood and rat droppings, the kitchens of spoiled cabbage and mutton fat; the unaired parlors stank of stale dust, the bedrooms of greasy sheets, damp featherbeds, and the pungently sweet aroma of chamber pots.
Taste
Like smell, tastes can have the effect of transporting the reader. Famously, in Proust's Remembrance of Things Past, our narrator savors a freshly baked madeleine that unlocks a trove of childhood memories. In much the same way, you can tap into your reader's shared experience of taste — both delicious and repulsive — to evoke a sensory response that draws them into your character's headspace.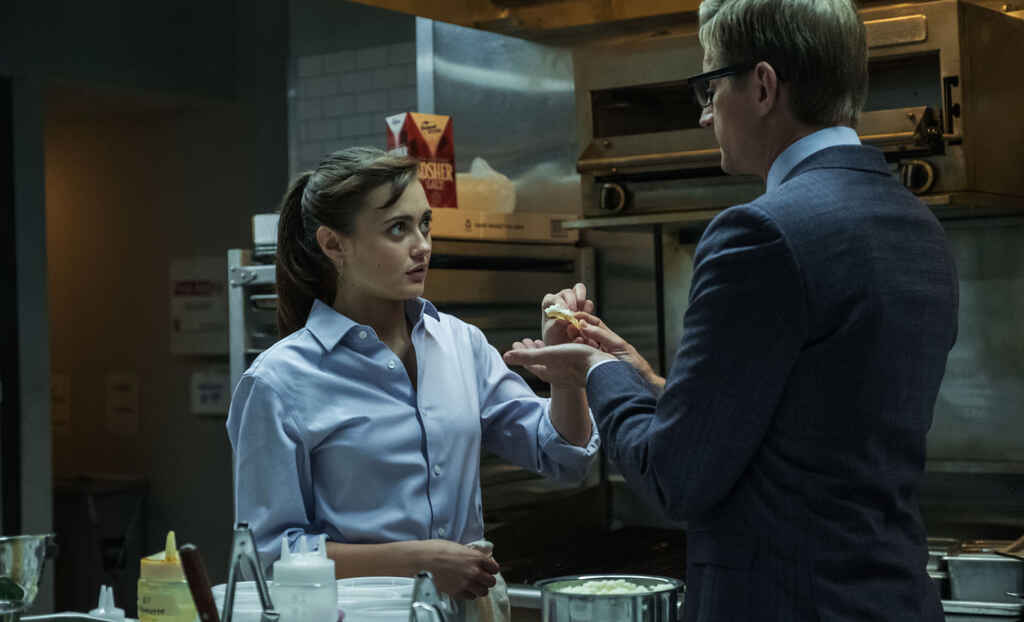 Ella Purnell in Sweetbitter [Image: Starz]
"Wow," I said. And I meant it. I had never thought of a tomato as a fruit — the ones I had known were mostly white in the center and rock hard. But this was so luscious, so tart I thought it victorious. So — some tomatoes tasted like water, and some tasted like summer lightning."
Tactile Imagery
Writing using the sense of touch is about much more than describing the feeling of sand through your fingers or a silk scarf on your shoulders. Though textures are crucial to building a full descriptive picture, touch also encompasses sensations we usually think of as beneath the skin, like sweltering in the heat, prickling with fear, or writhing in agony. Get it right, and tactile imagery can move readers to have a physical experience that's completely immersive.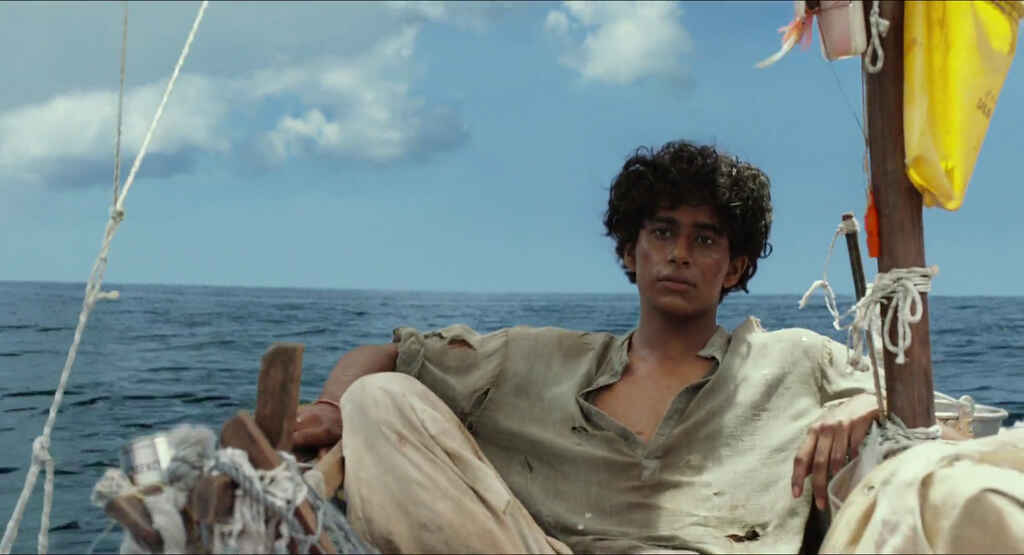 Suraj Sharma in Life of Pi [Image: Fox 2000 Pictures]
The four types of writing techniques:
1. Descriptive
Descriptive writing is most commonly used in short, creative writing, like poems and song lyrics. Some authors insert descriptive segments in their stories. The purpose of the descriptive writing style is to create a vivid image in the reader's mind.
Metaphors and similes
When you compare one thing to another completely different thing as a way of describing it, you are either using a metaphor or a simile. Duran Duran's song title "Hungry Like the Wolf" is a good example of a simile used in descriptive writing. Do you want to learn more about metaphors and similes? Check out this blog article on metaphors and similes.
Using your senses
Using all the senses, including smell and taste, to describe something can be a very powerful technique when you're doing descriptive writing. For example, instead of writing "The drink was ice cold," you might write something like, "As I drank, I felt the back of my teeth hurt and my insides clench at the shock of the cold water."
Internal rhymes
This neat trick gives your writing a sense of pace and movement without being obvious about it. Internal rhymes are usually challenging to pick out unless you're really looking for them, but they give your poems and songs a little something more. Paul McCartney's songs are full of internal rhymes. "Lovely Rita" is a good example (the internal rhymes are in boldface):
2. Narrative
Narrative writing is a writing technique you use when telling a story. Along with descriptive writing, it's the type of writing that tends to be the most creative, which is probably why many people like it best. When you're being creative, it's okay to bend the rules a little bit, so you don't need to be perfect about grammar (though your writing will look sloppy if you're not careful). Narrative works, like novels and short stories, usually include a bit of descriptive writing in them. Good narrative writers use many literary devices to make their writing stand out. Here is a list of the most common ones.
Parallelism
When you structure all the parts of your sentence for effect, you've created a parallel structure, also known as parallelism. "Love it or leave it" is a good example. Another example is the first two lines of Shel Silverstein's poem, "Hug o' War": "I will not play at tug o' war / I'd rather play at hug o' war." If you rewrite those lines without the parallel structure, it looks like this: "I'd rather play at hug o' war than at tug o' war." It's nowhere near as engaging!
Alliteration
This is when a series of words starts with the same letter. It's a great technique if you want to create a dramatic effect. British tabloids love to use alliteration in their headlines: "Nattering nabobs of negativity" is one example. Alliteration is also lots of fun to play around with, especially if you want your writing to sound over the top.
Great characters with a strong voice
To write a great narrative piece, you need to make sure your characters are interesting and believable. You also need to pay close attention to how your characters talk to others and to themselves. Paying close attention to the characters in your story is super important! If you want to learn more about developing great characters, take a look at this blog article on characters.
Foreshadowing
Foreshadowing is a fantastic tool to keep your reader engaged. In foreshadowing, you give your reader a hint that something is about to happen without giving away any details. Here is an example of foreshadowing: "Mary closed the door to the office, happy to finally be done with the day, and hopped into the elevator. Already focused on the weekend ahead, she did not hear the tinny sound of the telephone ringing at her desk."
Top courses in Writing
3. Expository
Exposition, also known as expository writing, is a type of writing used to explain, inform, or describe. If you're writing a book report, chances are that most of it will be expository writing. Journalism uses this style, as do most essays. Here are some tips to help you.
Know the difference between fact and opinion
It sounds obvious, but many people state an opinion and claim it is a fact. For example, "Gelato has less fat, less sugar, and a lower calorie count than ice cream" is a fact. But "Gelato is healthier than ice cream" is an opinion because "healthier" is a value judgment: It is not measurable. Check your work for comparatives and words like more, most, less, least, better, and worse to ensure you aren't stating opinions as facts.
Stick to the third person
The third person is when you use pronouns like he, she, it, or they. If you see I in your writing, you're probably stating an opinion, which is generally discouraged in expository writing. If you see you in you're writing, you're probably being too informal. Learn more about how to write in third person in this blog.
Academic Writing Techniques
Academic writing much prefers the use of passive voice. Sentences in a passive voice might appear dull and boring, but they are much better at conveying objectivity and distance from the subject of the academic paper at hand.
However, some recent scientific papers have also called for the increased use of active writing to make researchers and scientists appear more involved in the process rather than merely being observers.
The use of passive voice can also apply to writing an essay. In education, knowing how to best approach a subject and write objectively about it is the key to submitting a successful academic paper, no matter your knowledge or education level.
Additionally, using hyperbole or colloquialism is highly discouraged. A scientific paper aims to convey facts, and as such, the related writing process will naturally differ from the works of a fiction writer, who has much more freedom.
Resources:
http://www.ayothewriter.com/writing-techniques/ ^(https://digitalculturesandtranslation.com/goto/http://www.ayothewriter.com/writing-techniques/)
https://blog.reedsy.com/writing-techniques/ ^(https://digitalculturesandtranslation.com/goto/https://blog.reedsy.com/writing-techniques/)
https://blog.udemy.com/writing-techniques/ ^(https://digitalculturesandtranslation.com/goto/https://blog.udemy.com/writing-techniques/)
https://codeless.io/writing-techniques/ ^(https://digitalculturesandtranslation.com/goto/https://codeless.io/writing-techniques/)
https://contentfiesta.com/writing-techniques/ ^(https://digitalculturesandtranslation.com/goto/https://contentfiesta.com/writing-techniques/)